We get how busy things can get, which is why we have come out with a bite-sized edition of Curated Conversations that translates our guests' key learnings into digestible, effective information that you can absorb in 5 minutes (or less) anytime, anywhere. We like to think of it as a crash course on-the-go to make sure you can rev up your career even when you only have minutes to spare. Real advice, real experts, real quick. That's a promise.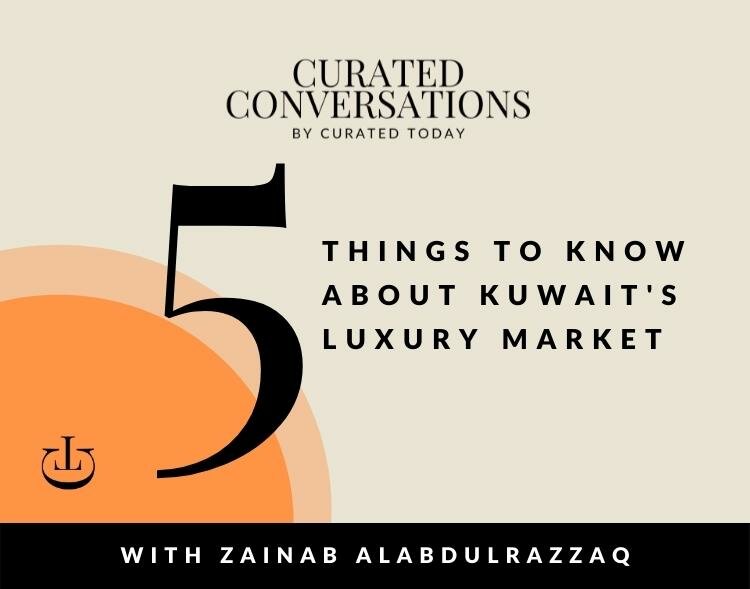 With the fifth-highest number of millionaire households in the world, Kuwait is a haven for luxury connoisseurs. To better understand the unique needs of its luxury consumers, Rohma Theunissen caught up with Zainab Alabdulrazzaq, Editor-in-Chief of Kuwait's leading digital luxury platform 3oud.com, to find out the 5 key things that brands need to know about the Kuwaiti luxury market.
About Zainab
Zainab is a highly respected Kuwaiti media personality and entrepreneur. With over a decade of experience, she is considered one of the most powerful women in fashion across the Gulf. Fluent in English and Arabic, Zainab started her career in 2011, as the editor of Marie Claire Arabia making her the first Kuwaiti to hold this position, anchoring the city on the global map. Zainab was born into the Alabdulrazzaq family, one of the most respected names in Kuwait. Her father, Abdulaziz Alabdulrazzaq, chief Amiri Protocol and Chamberlain spent over 30 years in the diplomatic and protocol administration of Kuwait at Amiri Dewan, the royal palace of the Emir of Kuwait. She has since joined the Office of the Kuwaiti Royal Palace and is a Member of the Amiri Protocol and Chamberlain of His Highness The Amir Of Kuwait (Amiri Diwan) and Member in administration of the Kuwait Cultural Center of Amiri Diwan. As a fashion pioneer, Zainab has worked closely to launch a multitude of international brands in Kuwait, including Boucheron, Charlotte Tilbury, Chloe, Dolce and Gabbana, Ralph Lauren, Fendi and helped launch Net-a-Porter in Kuwait through a first-of-its-kind event at the prestigious museum of natural history, Sheikh Abdullah al Salem Cultural Center. In 2013, she was honored as Dolce and Gabbana's ambassador for the entire Middle East.
Zainab's Kuwaiti heritage is a huge part of her vision for the fashion industry as she continuously supports local designers, entrepreneur, retailers, artists and more. Driven by her passion for fashion, this led her to launch 3oud.com in July 2015 (pronounced – Oud.com), a leading Arabic digital fashion hub headquartered in Kuwait. Recently, Alabdulrazzaq achieved a big milestone in her career by facilitating one of the biggest deals across the GCC where the Tamdeen Group acquired 3oud.com. A leading Kuwaiti company in the fields of real estate development, investment and entertainment, the Tamdeen Group aims to promote and support digital media in Kuwait and the region. Zainab maintains her position as the Founding Editor-in-Chief at 3oud.com where she will continue to play an active and positive role in promoting Kuwaiti culture and young Kuwaiti talent. Zainab graduated from Bahrain University with a Bachelor's in Mass Communication and Publication. She married Kuwaiti businessman Abdulkareem Tawfeeq Alnassar in 2018 and was blessed with baby boy Abdulaziz, her father's namesake, in 2019.